02. May 2022
Smart cushions
VISSEIRO GmbH is realising sensor systems for vital data monitoring at the CHIC Charlottenburg Innovation Centre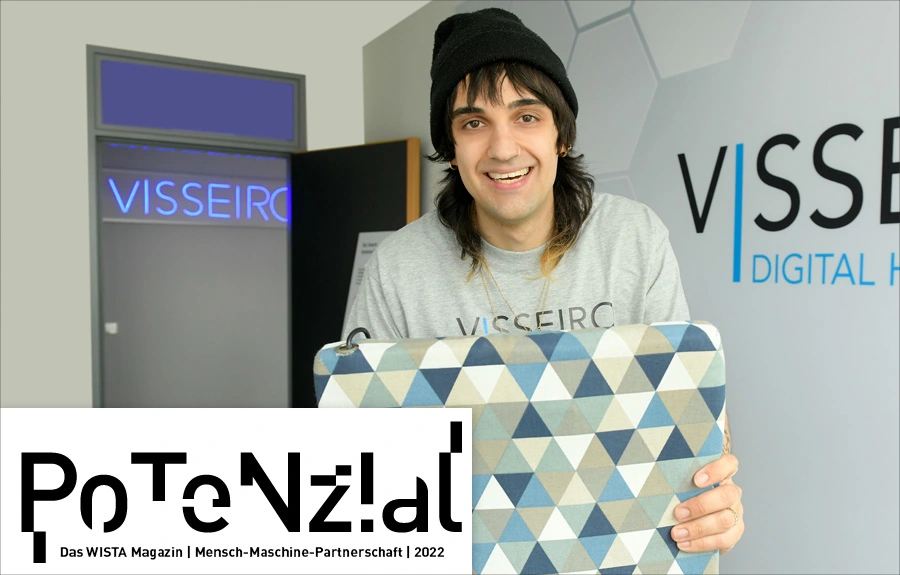 Kristian Prins, newest recruit and Chief Wellness Officer at VISSEIRO, is bringing the smart cushion to the world © WISTA Management GmbH
Based at the CHIC Charlottenburg Innovation Centre, VISSEIRO GmbH is realising sensor systems to monitor vital data that can be integrated into seat cushions and mattresses. Having recently grown to a staff of 12, the company is also involved in another research project that deals with virtual reality in nursing and care.
Worry is constant companion for people caring for a relative as well as professional caregivers. The idea that a care receiver could fall, being left to lie on the floor without help, that dementia patients run away to wander about aimlessly, or that a medical emergency remains undetected is taxing on caregivers. It is precisely after these types of events, a close shave during an emergency, that worries tip the balance and older people are forced to leave their familiar surroundings and move into a home.
VISSEIRO GmbH, a young company founded in autumn 2018, is addressing this problem. The idea: If people caring for relatives, care facilities and care service providers can't keep a good eye on the health of care receivers, these gaps can be closed using smart sensors that are perfectly integrated into people's everyday lives.
To make the use of sensor systems easier, they are integrated into cushions. They measure vital parameters, including heart and respiratory rate or even a care receiver's movement, while they sit comfortably in an armchair. The sensitive sensors are embedded into a viscoelastic gel to increase seating comfort. This also helps to protect them against moisture, an important asset in everyday care. Alternatively, this smart vital function monitoring could be directly integrated into furniture and mattresses.
After graduating from RWTH Aachen University, CEO Pirmin Kelbe and his co-founder Janek Jurasch moved to Berlin to found their start-up. Their goal: Creating easy-to-use, everyday medical technology. "This is called adherence in medicine," explains Kelbel. Only a technology that is accepted will be used. If monitoring of vital parameters is tedious, the technology will eventually be scrapped. "This usually happens when manufacturers adapt solutions from other fields and apply them to caregiving without looking more closely at the needs of carers and care receivers," he explains.
The VISSEIRO team vowed to do it better. The founding duo put a lot of thought into what such a system could look like, one that is perfectly adjusted to the reality of older and immobile people and other care receivers. They all have in common that their everyday life takes place in a seated position. Hence, the idea of cushion, which has since won many awards, including the Berlin-based "Deep Tech Award" in the category "Social/Sustainable Tech". The users win too. The sensor-equipped cushion helps them to worry less. They can check the vital parameters of their customers, clearly visualised on their smartphones. They not only know if care receivers are sitting in their armchairs but also if they are well, based on their heart, breathing and muscle activity. "The gel transmits the respective frequencies to the sensors very well," says Kelbel. In nursing homes and private households, the technology works so well that the data can be used for long-term ECG recording. Another feature of the app enables data sharing with the attending medical staff.
The team recently welcomed its 12th member at CHIC to drive its ideas forward: Chief wellness manager Kristian Prins will coordinate the growing number of national and international trade fair exhibitions and conferences and take care of a productive work environment for the founding team, which is rapidly growing and diverse – in more than just a professional way. In addition to rapid internationalisation, the start-up is focussing on diversifying its service offering. Among other things, it is taking part in a collaborative research project funded by the Federal Ministry for Education and Research (BMBF), which is using virtual reality (VR) against loneliness in older people. Together with university researchers from Aachen, Oldenburg, and Wuppertal as well as AWO Wohnen & Pflegen Weser-Ems GmbH, the VISSEIRO team is investigating the extent to which smart sensors and VR technology can create more social participation and autonomy in people's everyday lives. The 1.88-million-euros project is funded until summer 2024.
Here, too, the key is to create acceptance for these solutions by seamlessly adapting them to the everyday lives of the elderly. And that's what the Charlottenburg-based team knows to do best.
Peter Trechow for POTENZIAL
Potenzial – The WISTA Magazine. Edition: Human-machine partnership / May 2022