02. May 2023
More attractive than working from home
WISTA is testing new spatial concepts for hybrid working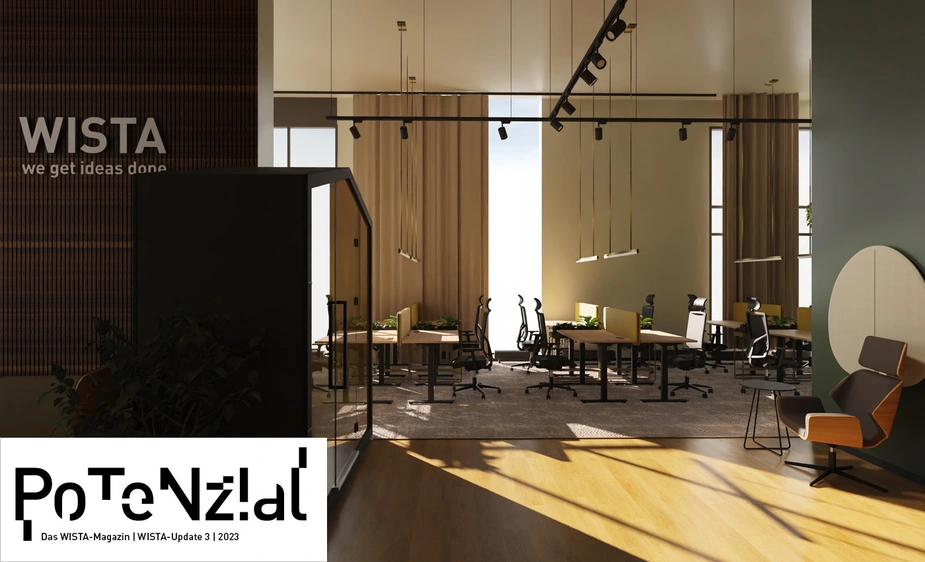 Modern working environments: the new co-working space in the Charlottenburg Innovation Centre © Urve Liivak
Performing knowledge-based work decentrally – be it in a home office, on the road, or at a café – can be convenient. But it also has its disadvantages. It makes teamwork, social interaction, stimulating discussions, and random encounters harder, or omits them completely. WISTA is therefore testing new spatial concepts for hybrid working, aiming to combine the best of both worlds. Interior and design play an important role in this.
Being an architect, it doesn't take Robert Wingendorf more than a couple of brushstrokes to sketch out the development of his trade over the past 170 years: The way industrialisation accelerated the spatial separation of living and working, the way people worked at isolated desks in offices with a clear view of their supervisors, the way management withdrew into its own little circles to think and work, and the way today's innovation-driven world depends on teamwork and networks of knowledge – and how this is reflected by spatial concepts.
This already rapid change has been picking up speed since the pandemic. Our meeting with Wingendorf reflects this. Urve Liivak, an interior and workplace designer from Tallinn, is meeting with us remotely. Robert Sillmann, CEO of WISTA Management GmbH, is taking part from Kiel. And yours truly is sitting in his home office in Berlin. Four people, four locations, four spaces. Wingendorf, Liivak, and Sillmann also emphasise how much they depend on their regular meetups in Adlershof for working together. They emphasise the role of personal exchanges and close contact with people, for and with whom they develop new and flexible concepts for the hybrid workplace of the future.
The first co-working spaces in Adlershof were popping up before the pandemic. Liivak and Wingendorf recently created another one at CHIC, the Charlottenburg Innovation Centre. Curtains, carpets, modern furniture, grouped workplaces, and comfortable armchair create a warm and respectable flair along with the colour scheme. The space is for CHIC start-ups to work, meet other teams, receive visitors, and have talks with job candidates and clients in a prestigious setting. "The foundation of every successful company is the people. They must enjoy the environment they work in," explains Liivak. Good spatial concepts encourage social interaction and counterbalance the creeping isolation of working from home with something more appealing.
This point is very important to Roland Sillmann. The encounters and close networks of the scientific institutes and companies in Adlershof – or more precisely: of the people who work there – were a critical factor for the success of Germany's most modern technology park. "What is needed is diversity, different perspectives on the world, and personal exchanges. Because this is what stimulates creative processes that produce the ideas and products of the future," he says. Hybrid work offers an opportunity to revive severed connections. To do so, people's work must and will move closer to where they live. Co-working spaces can complement sites like Adlershof and connect urban centres with rural areas, which attract many working people and their families, through so-called innovation corridors. WISTA was systematically promoting such concepts.
And so, it is no coincidence that an Estonian specialist like Urve Liivak decided to move here. The Baltic states have given rise to a modern world of work, where workspaces truly have become living spaces, not just on paper. The start-ups and companies do not have any trouble luring people out of their home offices: "They enjoy coming because the spaces are designed in a cosy, welcoming, and innovative way," says Liivak. This creates an appropriate atmosphere for creative solo and teamwork and lively breaks.
She is now incorporating these experiences into the concepts that she is developing together with Wingendorf. According to their prototypes, the pair is creating diverse spaces by entering a dialogue before and during the users populate them, and then systematically evaluating their responses. With this triad of testing, validating, and verifying, their methodology is very close to that of the start-ups at CHIC and the 1,200 companies based at Adlershof. Although the aim is to create light and vibrant spaces, the whole thing is more than just a walk in the park: "To come out on top in global competition, we in Germany should not just focus on efficiency but exploit our creative potential," says Sillmann, warningly. Many still underestimate the role that spaces and their atmosphere play in this. For this reason, he is so passionate about how specialists collaborate: "These people are capable of filling the experimental spaces we offer them with their creativity and their professional methods," he emphasises. In this way, the work environments of the future are offering an appealing alternative to working from home.
Peter Trechow for POTENZIAL
Potenzial – The WISTA Magazine. Issue: WISTA Update / May 2023