28. October 2021
Exhibitions, workshops, and a job fair – the Photonics Days Berlin Brandenburg in Adlershof
In addition to online events, 2021 welcomed back people meeting at face-to-face events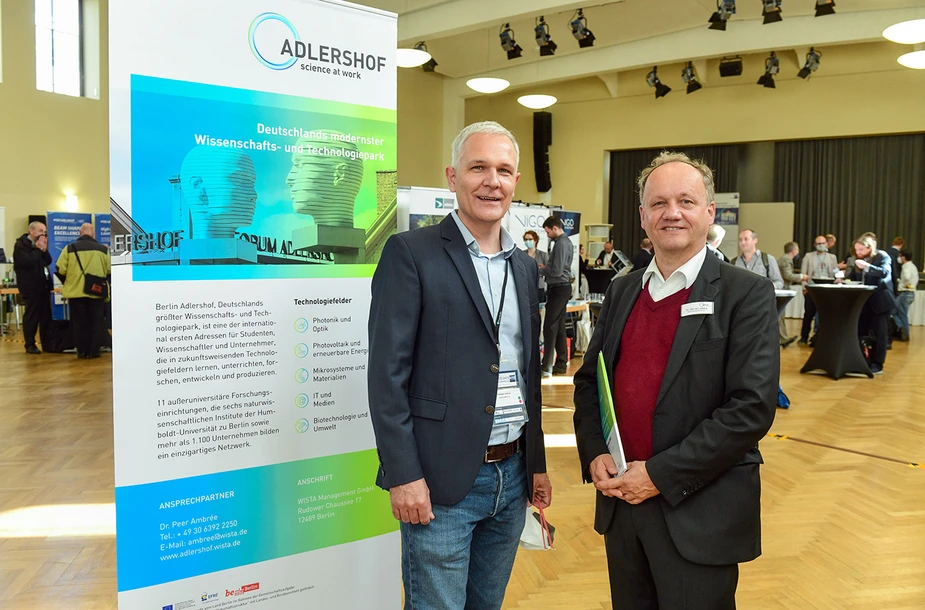 Photonics Days organiser Frank Lerch (left) and his WISTA supporter, Bernd Ludwig © WISTA Management GmbH
Photons are massless. They are the smallest possible package of energy of any electromagnetic radiation. Due to their properties as light quanta, their name comes from the Greek work "phos" for "light". Today, photons have become some of the most important tools of modern research and technology. Their importance is underscored by the "Photonics Days Berlin Brandenburg", which have been taking place in Adlershof since 2017. "We started out with 50 exhibitors and about 500 participants in the workshops," says Frank Lerch from the Competence Network for Optical Technologies Berlin-Brandenburg (OpTecBB), responsible for planning and hosting the Photonics Days.
"We are the fellow organisers," says Bernd Ludwig, head of the Centre for Photonics and Optics in Adlershof. A scientist with a PhD in chemistry and biology, Ludwig is also responsible for the WISTA labs for biotechnology, renewable energy, and photovoltaics in Adlershof. He highlights the benefits of the hybrid character of this year's event, a mixture of face-to-face as well as online sessions. Online seminars can be easily recorded and made available online. Ultimately, this leads to more networking between participants, speakers, and the exhibitors. Ludwig and his team support the organisers from OpTecBB, who he praises for their commitment. "Kudos!—is all I can say," says Ludwig.
His compliment is also a sign of relief that this year's Photonics Days will finally bring people together in Adlershof. Due to the coronavirus pandemic, this hadn't been possible in 2022. Instead, experts from the fields of optics, microsystems technology, sensors, and quantum technology met online across 22 sessions. "With more than 40 percent of the 900 participants joining in from abroad, that event was very international ," says Frank Lerch. However, face-to-face exchange was missing.
"For this reason, we decided as early as spring 2021 to do the Photonics Days in autumn using a hybrid format, including exhibitions and face-to-face meetings in Adlershof as well as online events," says Lerch. He had been familiar with the network's work during his academic career at Free University Berlin before becoming its head in 2012.
"Our activities are aimed at fostering researchers and companies in the photonics sector, especially start-ups supporting technology transfer," says Lerch. Seeing as Adlershof is home to world-renowned research institutes and about 100 companies working in photonics, it stands to reason that the OpTecBB office should also be located here.
Despite the hard times created by the coronavirus pandemic, many exhibitors and guests flocked to Adlershof. In 2021, there were about 300 of them. Half of them came from Germany, the other half came from a dozen of other European countries with the Netherlands, France, Greece, Belgium, Finland, and Switzerland at the top of the list. The event also attracted some guests from the US, Japan, Israel, Singapore, and China. Twenty-six parallel sessions took place across four days. The event also featured online sessions where undergrads and PhD students could exchange ideas with representatives from the industry. If Lerch's vision becomes true, the job fair will also return as a face-to-face event in the years to come.
The large-scale event is made possible not least by its sponsors and supporters, including Berlin Partner for Business and Technology GmbH and WISTA as well as private companies like FISBA Photonics GmbH, a Swiss manufacturer of optical products. The Photonics Days' official partners include OptecNet Deutschland e.V., the national German optics association, and SPECTARIS, the German industry association for optics, photonics, analysis, and medical technology, as well as foreign sponsors like the Israeli Economics and Trade Mission Berlin and the European Photonics Industry Consortium (EPIC).
With support of this magnitude and the commitment of his team, OpTecBB organiser Lerch and WISTA supporter Ludwig are very optimistic about the Photonics Days 2022. Should the risk from the coronavirus be as low as expected, face-to-face events with visitors and exhibitors could be back to normal. The event will continue to feature online sessions, but the focus will be on personal exchange. "All our participants have indicated that they are eager to meet face-to-face," says Lerch.
Dr. Paul Janositz für POTENZIAL
Potenzial – The WISTA Magazine. Edition: Business Support 2021