08. September 2023
Digital twins
A new platform pools data from eleven different sites in Berlin generating future innovation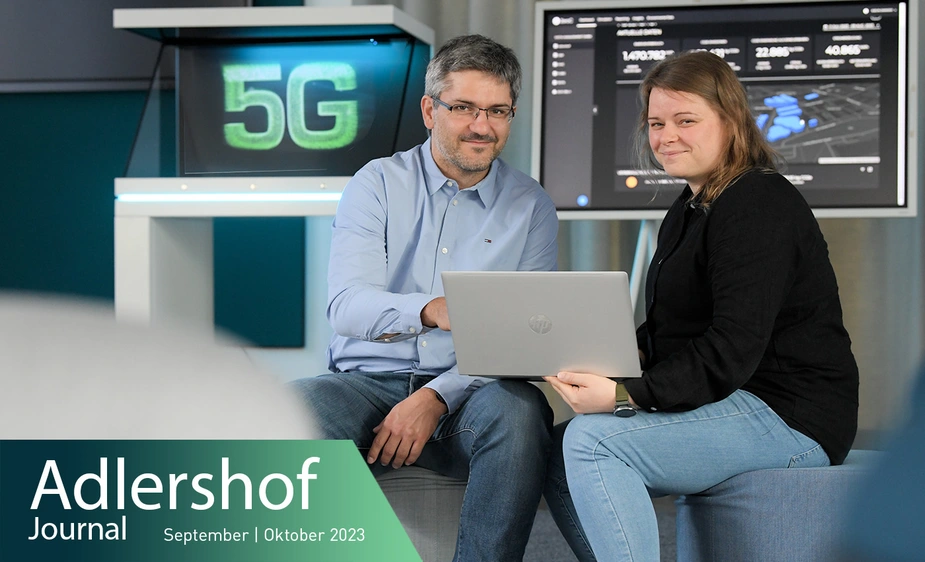 Christoph Böttger and Evelyn Cimander run the "Digital Twin" innovation project © WISTA Management GmbH
Berlin's Zukunftsorte, German for 'places of the future', are pivotal sites generating future innovation in technology across the German capital. They are made up of 2,200 companies and 42 scientific institutions, including Technology Park Adlershof, the Innovation Campus (FUBIC) in Dahlem, Campus Charlottenburg and the Charlottenburg Innovation Centre (CHIC), and the CleanTech Business Park Marzahn. Under this visible surface, an independent, digital innovation project has now been launched for these four locations.
This has got to be Adlershof! The unmistakable electron storage ring BESSY II is a clear hint, as are the evocative names of the streets: Einstein, Kekulé, Rutherford, and Planck. Berlin's smartest neighbourhood appears on Evelyn Cimander's laptop in the form of a digital 3D model. And this digital model pulls out all the stops.
Together with Christoph Böttger, Cimander is responsible for innovative infrastructure projects at WISTA Management GmbH, Berlin's technology park enabler. The 3D model is an essential part of these activities. It constitutes the structural work of a digital twin of Adlershof.
A click of the mouse on one of the WISTA buildings brings up key business data that are displayed in a clear and user-friendly way. They include energy consumption broken down into electricity and heat, emissions as CO2 equivalents, and consumption of other materials. Many of them are real values that are continuously updated. The model is fed data by numerous digital metres that are all over the buildings. Some of them are updated every quarter of an hour, some in larger intervals using manual reading or based on utility bills. "The most important thing is that the digital twin creates a platform where all relevant data flow together," they explain.
The future will show which other data could become relevant. The digital twin is clearly designed as a long-term project. It is conceivable to integrate data from environmental sensors, data from on-site companies and research institutes, transportation data, or data on points of interest (POI) in the region. Artificial intelligence is used to analyse the collected data. Over time, the model will continuously move closer towards representing reality. This is not just happening in Adlershof – several WISTA sites are being digitally recreated. The better the twins are fed with data, the clearer the image will become for the site operators. They will be able to see how their sites develop, how certain changes or energy efficiency measures affect consumption management, or how successful transportation and infrastructure projects are on the ground. The aim is to make the data available quickly. "With an energy mix predominantly based on fossil fuels, our goal was to reduce consumption," says Böttger, "but now, with the share of renewable energy rising, intelligent consumption management in real time is becoming more important in order to use energy when it is available."
In establishing the platform, WISTA has been relying on the know-how of the young Berlin-based urban energy GmbH and their software ZeroC. It provides the necessary digital infrastructure to connect metres and sensors – and to safeguard the continuous feeding of the twin with energy and environmental data. This forms the basis for being able to make the status of individual buildings or entire locations visible on the dashboard, execute in-depth needs analyses, and run them through simulations. This will contribute to better estimates of the effectiveness of building modernisations and energy efficiency measures. Finally, it makes it considerably easier to draw up so-called ESG reports (short for environmental, social, and governance). As yet, gathering the underlying data from various data silos takes a lot of time. "On the platform, we can bring together data that were previously separate," says Cimander. Even though the setup is time-consuming and complex, Böttger and she see clear benefits in the long run: "We expect a lot more clarity regarding existing WISTA infrastructure and for new projects." Based on the digital platform, it will become easier to run through various possible scenarios and their effect on running costs and utilities, emissions, or traffic flows – and the planning of new projects will be steeped in more realistic assessments.
Peter Trechow for Adlershof Journal
Related News
Related Institutions