11. September 2023
Targeting cancer
Tacalyx is developing an antibody therapy that promises to be more effective and well-tolerated than previous therapies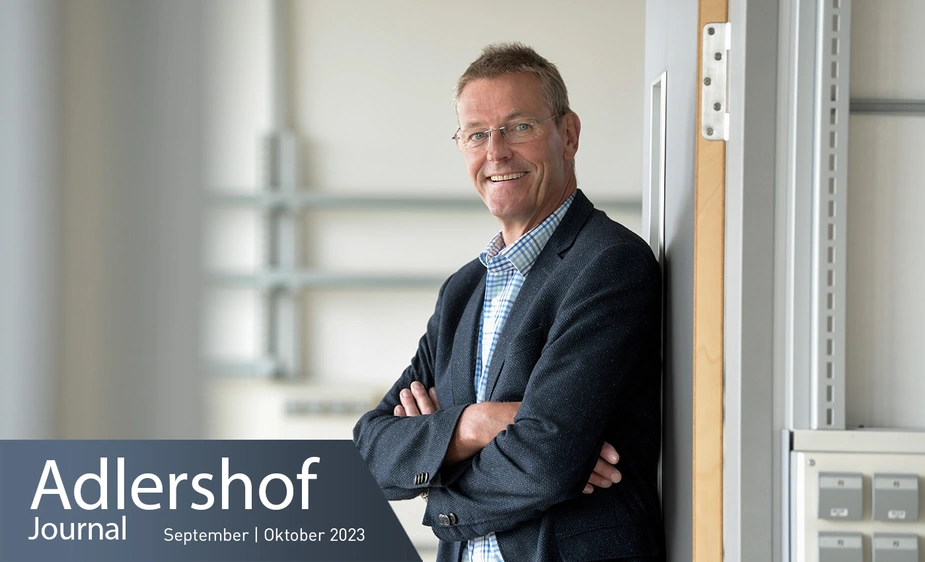 Peter Sondermann is working on a more effective therapy against particularly severe forms of cancer © WISTA Management GmbH
It looks simple enough on the flip chart: Sugar molecules rise like mushrooms from the surface of a cancer cell. This is the place where the antibodies dock onto, carrying a chemotherapeutic agent and specifically targeting the cancer, but nothing else. Only the cancer is eliminated, healthy tissue is spared, the patient is healed.
In practice, it's not quite as easy. Many obstacles must be overcome before an effective therapy is ready for use. Co-founder and CEO of Tacalyx, Peter Sondermann, however, is confident that the next steps will be equally successful as the first.
Tacalyx is a spin-off company from the Max Planck Institute of Colloids and Interfaces (MPICI) in Potsdam Golm. As yet, the nine-strong team was working at the Bayer CoLaborator in Berlin-Wedding but was forced to look for new digs due to growing space requirements. The new location had to be easy to reach for the highly skilled staff and provide young companies with an inspiring environment. "We considered several different sites, but it was the concept of Technology Park Adlershof that was the most convincing. They also met us with great flexibility and now we're here," says the company head.
The aim of Tacalyx can be summed up as next-generation antibody therapy. The first generation of antibodies has already resulted in enormous advances in cancer treatment. They are now often employed instead of chemotherapy and radiation, which attack tumours in relatively unspecific ways. Antibodies are specialised to target proteins that cancer cells develop on their surfaces. Based on the key-lock principle, they dock onto cells and mark them for elimination through the body's own immune system, explains Sondermann. "However, such proteins are not only found on cancer cells but more rarely also on healthy cells, which are then also attacked, leading to more side effects."
By contrast, Tacalyx aims at the carbohydrates that can also be found on the surfaces of cancer cells. They help create metastases and new blood vessels as well as suppress the body's immune defences. "In adults, these carbohydrates are only found on cancer cells but not in healthy tissue, so they enable more targeted therapy," explains the scientist. These so-called TACAs (tumour-associated carbohydrate antigens) also give Tacalyx its name.
"With our therapeutic approach, we can take much more targeted action against cancer cells," says Sondermann. For those affected, this means that doctors can use higher doses of the active agents because healthy tissue will be damaged much less. "In addition to higher doses, the high specificity of our approach enables longer treatment. This makes possible killing many more cancer cells without the unacceptable side effects that, ultimately, lead to the discontinuation of the treatment."
Tacalyx's treatment development is focused on serious cancer that can only be treated with other procedures to a very limited extent, such as colorectal or lung cancer.
Moreover, new TACAs are currently being identified together with university research partners. Once identified, the TACAs are synthesised and then antibodies are produced and characterised. In parallel, Tacalyx is raising additional funds to study the safety and effectiveness of its first antibodies on patients.
"First clinical tests can begin in two years," says Sondermann, "and, if the results are convincing, the resulting drug would be available around 2030."
Ralf Nestler for Adlershof Journal
Related News
Related Institutions