31. August 2020
In high gear
Kapp Niles, machine manufacturer in Marzahn, is looking forward to new arrivals in the CleanTech Business Park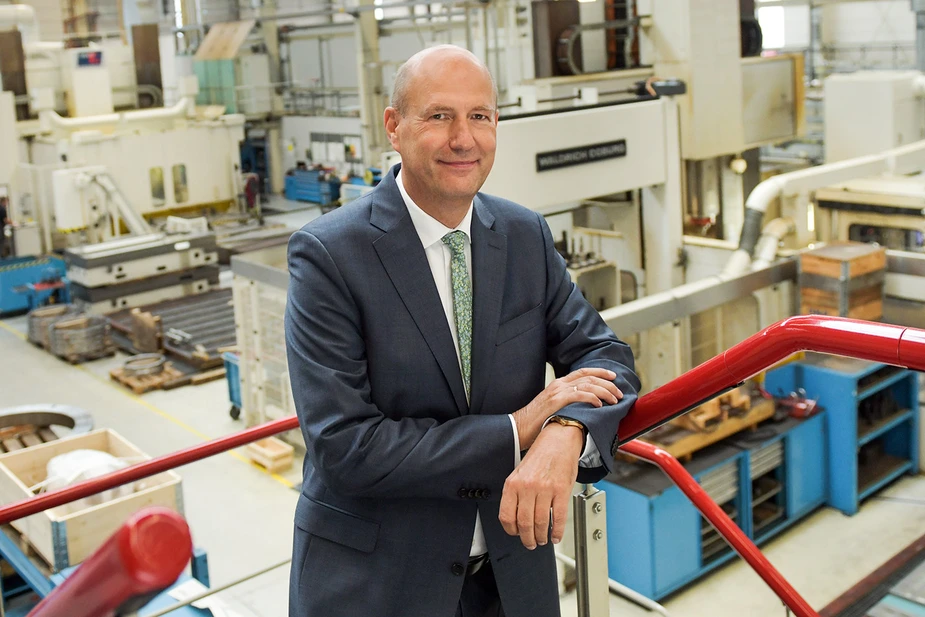 Michael Konrad, purchasing manager of the Kapp Niles Group, is optimistic about the future © WISTA Management GmbH
CleanTech Business Park Marzahn (CBP) is a delicate plant that is only just beginning to thrive. But the seed was planted in fertile ground. Not only because clean future technologies are created here, but because the neighbourhood is full of interesting companies that can help CBP to achieve success — and benefit themselves from the know-how of the new arrivals. One of these companies is the hidden champion Kapp Niles from Coburg. From its location in Marzahn, this medium-sized machine manufacturer of high-precision gear profile grinding machines for the production of gear components is supporting wind turbine builders and thus the transition to cleaner energy.
Few will have heard its name before, but the company is a hidden market leader when it comes to specialised machines for high-precision profile grinding of gears and profiles as well as the tools that go with them: Kapp Niles. Hailing from Coburg, this family-run company is home to 1,000 employees worldwide — 140 of which work in the direct proximity to CleanTech Business Park Marzahn. It's a good match seeing as many greentech and energy production companies are among the customers of Kapp Niles in addition to almost every car manufacturer as well as many transmission makers, shipbuilders, mining companies, and the aerospace industry. This is unsurprising seeing as this owner-run machine-building company has been changing with the times and enabling its customers to be innovative since 1953.
What would be an ideal CBP neighbour for the Franconian company? 'They should match well with our field and strive for innovation like we do,' says Michael Konrad, purchasing manager of KAPP Group. 'Moreover, they should be very interested in cooperating when it comes to training, advanced training, and improving the local infrastructure.' After all, this would create a benefit for his own company as well as the overall development of the area. Konrad expects many synergy effects, especially in terms of cooperation with various stakeholders: 'This could include supplies, recruitment, staff training, various services, and improving the infrastructure of the area surrounding the CBP,' explains Konrad.
And how could new arrivals benefit from the know-how of a machine building company that grosses in three-million-digit range? 'Our company delivers its products to markets worldwide. We therefore have a high level of expertise when it comes to exports,' says Konrad. 'We can help with branching out and, to some degree, open new markets .'
Seeing as the company's roots go back to 1898, when it was still located in Wilhelminenhofstrasse in Berlin-Oberschöneweide, Konrad has an optimistic outlook for the Berlin branch of Kapp Niles and its neighbours: 'The location has good prospects. The new arrivals should benefit the local industry. There is a good local network, helped along by local business support organisation like the Marzahn-Hellersdorfer Wirtschaftskreis and the district's committed business support department.'
By Chris Löwer for Potenzial – The WISTA Magazine
Potenzial – The WISTA Magazine. Edition CleanTech Business Park Marzahn 2020