28. June 2021
Growing communities and vegetables
Feeding cities sustainably and strengthening social cohesion – that's what PlattenBaum UG is planning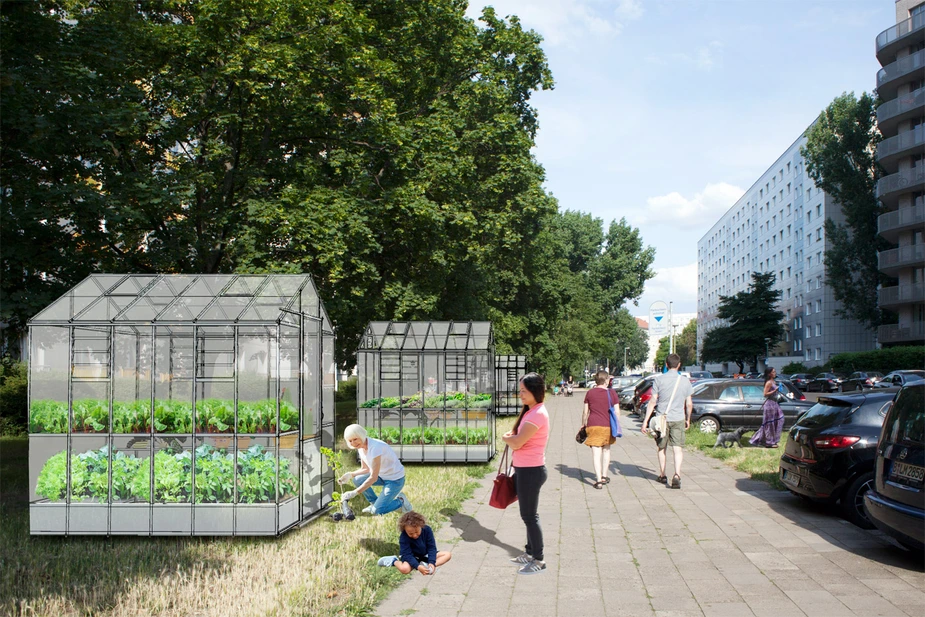 PlattenBaum's mini greenhouses enable residents to grow vegetables right outside their front doors © PlattenBaum
It's about growing fresh vegetables on the outside of panel houses, meeting people in greenhouses and community gardens, and the universal power of connecting through gardening. Maayan Strauss and Kerem Halbrecht cross boundaries. Their projects tend to combine architecture, urban planning, design, and art. Both can look back on projects all across the world. Their newest one, PlattenBaum UG, is also not easily pigeonholed: It's a social project as well as a for-profit start-up.
The reasons for this lie in their shared history. After meeting in the early 2000s while studying architecture in Jerusalem, they lost sight of each other for a few years – and both moved to Berlin independently. "Three years ago, I moved to a Plattenbausiedlung [an East German panel housing estate] in Friedrichshain," says Strauss. At her flat, which didn't have a balcony, she missed being out in the open and was perplexed on several occasions by how reclusive her other neighbours were. She remembered her old friend Kerem, who once started a community garden project in a difficult neighbourhood in Tel Aviv. She got in contact with him and learned that he had only recently co-founded similar projects in Jena and Stuttgart. "Gardening brings people together. Tending to the plants, sowing and harvesting, people come together and overcome their reservations," he says.
This social aspect is just as important to him with PlattenBaum. However, the aim of their gardens is not only to be fruitful for the community but also to contribute to feeding the city population on a larger scale. To this end, they developed a vertical farming module specifically for the façades of East German prefab houses. On top of that, they also plan to set up community garden spaces for the tenants as well as letting out small greenhouses, where local residents can grow their own vegetables. The panel housing estates' generous layout offers ample space to do so. "Another advantage is that prefab panel housing is standardised to a high degree. This lets us roll out our concept, including the vertical farming module, quickly and at a low price, and move it to other estates in Berlin or other cities," says Strauss.
After fleshing out their ideas at the Adlershof Founder's Lab, they started a pilot project with a municipal housing association in downtown Berlin. PlattenBaum will use this initial project to demonstrate that their community gardens strengthen communities and that there are enough residents eager to grow their own food. "Our goal is to strengthen all three pillars of sustainability," Halbrecht sums up their motivation. Community gardening against social alienation. Organic and local farming instead of a carbon-intensive industrial food supply as well as an economic perspective towards a short-distance urban agriculture. The plan is that professional vegetable cultivation in vertical farms and community gardening complement each other.
And what about PlattenBaum itself? "Our future goal is to become the general contractor, providing turn-key infrastructure, including operation and project management," says Strauss. Her co-founder adds: "In due course, we will seek additional partners and growth capital and focus on the complex German regulations." First, however, they are focusing on providing a proof on concept. Summer is upon us. Let the outdoor life begin.
By Peter Trechow for Potenzial – The WISTA Magazine
Potenzial – The WISTA Magazine. Edition: Urban Development and Housing 2021