16. January 2023
En route to carbon-neutral aviation
An innovative project for sustainable kerosine has been launched at Helmholtz-Zentrum Berlin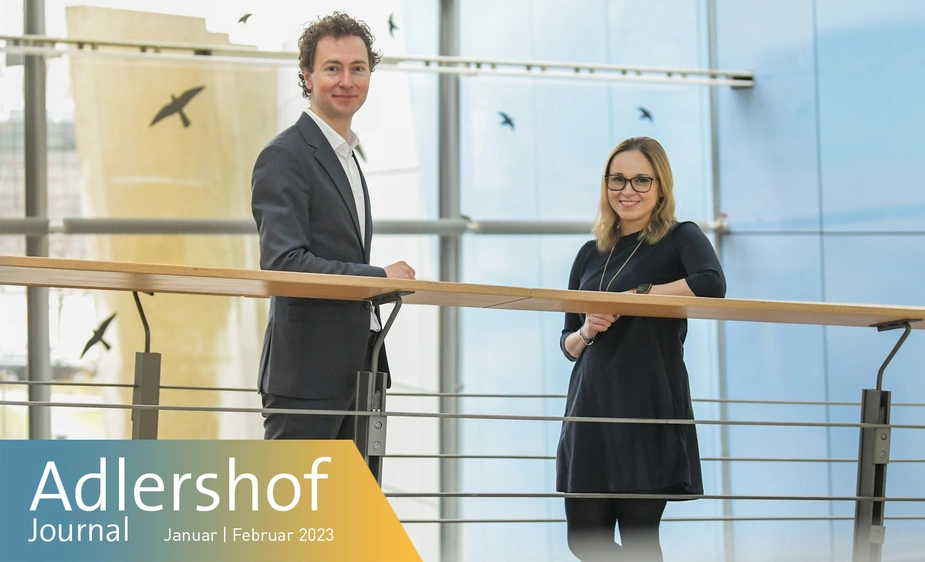 Pilots of the CARE-O-SENE project: Tobias Sontheimer and Yazmin Lucero Cobos-Becerra © WISTA Management GmbH
The transition to clean energy, or Energiewende, in transportation has begun. We are moving away from fuels that are damaging to the climate like petrol or diesel and towards carbon-neutral energy sources, including the use of batteries charged with electricity made from renewable energy. However, what works in cars and ships, does not work in aeroplanes. "Batteries for medium and long-haul flights would weigh several tons, which is too heavy for aeroplanes," says Tobias Sontheimer, Head of Strategy in the Department Energy of Helmholtz-Zentrum Berlin (HZB) and project leader at CARE-O-SENE (Catalyst Research for Sustainable Kerosene).
The project's seven partners from research and industry are committed to the issue of producing sustainable kerosene, which will benefit aviation as a carbon-neutral fuel. The basis of this is the Fischer–Tropsch process. First developed by the chemists Franz Fischer and Hans Tropsch 100 years ago, so-called catalysts can be used to produce hydrocarbons from synthesis gas, a mixture of carbon monoxide and hydrogen. Hydrogen is considered "green" when it is produced from water using electrolysis and electricity from renewable sources. Moreover, if the carbon dioxide used is taken from the air, the resulting kerosene can also be considered sustainable. The large amounts of renewable energy needed for such an undertaking are found in regions with a lot of wind and sun, for example, in South Africa.
The CARE-O-SENE project is receiving 30 million in funding from the German Federal Ministry of Education and Research (BMBF) as part of the National Hydrogen Strategy. The South African industrial partner Sasol is contributing another ten million euros. Based in Johannesburg, the company is specialised on producing liquid fuels using the Fischer-Tropsch technology.
Other CARE-O-SENE project partners include Fraunhofer Institute for Ceramic Technologies and Systems IKTS in Dresden, Karlsruhe Institute of Technology (KIT), University of Cape Town, INERATEC, a Karlsruhe-based clean tech company, and Sasol GmbH, based in Hamburg. It is their goal to set the course for large-scale production of sustainable kerosene by 2025. "To do so, the effectiveness of catalysts in the Fischer–Tropsch process must be increased from currently 50 to 80 percent," says Sontheimer. "About 30 HZB researchers, chemists, physicists, and engineers are working on that," adds Yazmin Lucero Cobos-Becerra. The chemical engineer is responsible for coordinating the project partners at HZB. The required experiments take place at the electron storage ring BESSY II of HZB in Adlershof. Thick, colourful bundles of cables and ducts snake their way through the spacious experimenting area. The facility generates extremely fast X-ray flashes that offer unique opportunities for analysing the processes taking place inside materials, which often consist of only very few layers.
"How catalysts function during operation and what changes when catalysts are coated" are but two of the key research questions of the CARE-O-SENE project. "These coatings are often very dense and waver-thin, with only a few atomic layers," says Catalina Jimenez, a materials researcher with a doctorate from Technische Universität Berlin. The researcher points a finger over to the Energy Materials In-Situ Laboratory Berlin, or EMIL for short. EMIL also houses CatLab, a catalysis centre founded in 2020, where HZB researchers collaborate with those of the Fritz-Haber-Institut and the Max-Planck-Institut für Chemische Energiekonversion, based in Mühlheim. The goal here is to develop novel thin-film catalysts, which work more effectively than previous reaction mediators. Using a special method, extremely thin layers, often consisting of only one layer of atoms, are applied to the catalysts.
"We conduct basic research while keeping an eye on the transfer into application at all times," says Jimenez. And so it makes sense that the research issues of CARE-O-SENE, too, are investigated at CatLab, with pressure and temperature largely under real catalyst conditions. "These analyses of the Fischer-Tropsch process are entirely new," explains Sontheimer. This is another reason why the strategist of CARE-O-SENE is so optimistic about reaching the desired goal by 2025 – 80-percent effectiveness of the Fischer-Tropsch catalyst. The dream of carbon-neutral flight would become a reality.
Dr. Paul Janositz for Adlershof Journal
Related News
Related Institutions