09. January 2023
A hint of Sicily in Adlershof
A German-Italian food truck serves up gourmet sandwiches and burgers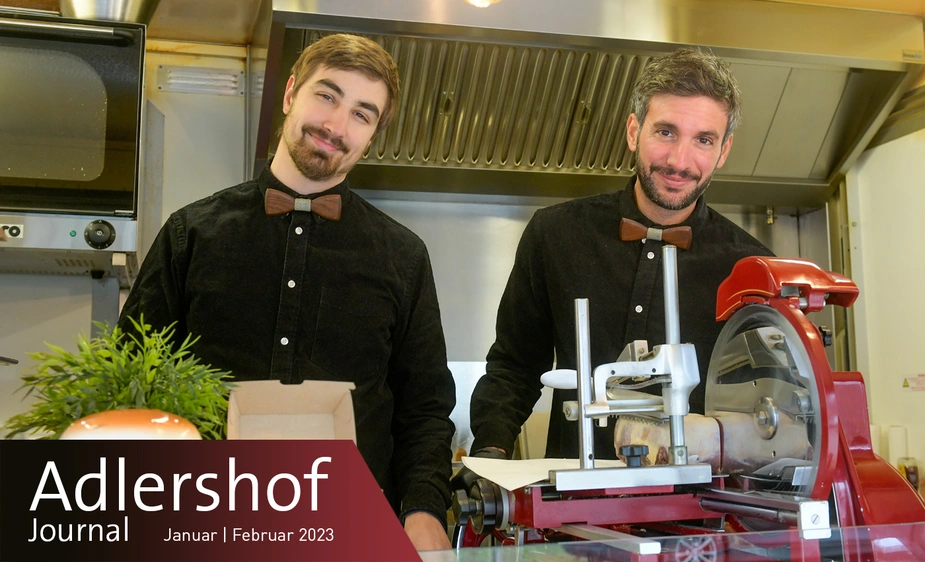 Making Adlershof gourmets happy: Benjamin Wolff (left) and Gabriele Paoletti © WISTA Management GmbH
Once upon a time, a Sicilian and a German cook met at an Austrian restaurant. Together, they founded "FOOD – Taste of the world on the road", a food truck serving gourmet sandwiches, which has been a permanent fixture in Adlershof now for six years.
They are called "Dirty Bomb", "Goldfever", and "The Italian Job" and are topped with fennel salami, aubergine, and buffalo ricotta – to name but a few of sandwiches, burgers, and ingredients from FOOD's culinary offerings. "We came up with all the names ourselves," says Gabriele Paoletti, who is called Gabri, and Benjamin Wolff, shortened to Ben. They are not only the owners, chefs, and founders of FOOD on the corner of Justus-von-Liebig-Strasse and Volmerstrasse but also friends. "That can be difficult sometimes but it's really convenient most of the time. If one of us got off on the wrong foot, we sense this instantly," says Paoletti.
Both had an early connection to good quality food: Paoletti, a Sicilian, was 13 years old when he started helping out at a café for the first time. Wolff, who was born in Berlin, says: "When I was young, my parents took me to Michelin-starred restaurants a lot." At home, they also enjoyed cooking good food.
It was love that brought Paoletti to Berlin via Rome, where he not only wanted to learn a new language but start "something new" altogether. "I had so much drive and was full of youthful enthusiasm," he says about his first years in the city. At the same time, Wolff was doing his alternative civilian service in a hospital kitchen and was flirting with the idea of becoming a cook. He completed an apprenticeship in a Michelin-starred kitchen before moving to Cottbus to study business administration. Back in Berlin, he helped out at an Austrian restaurant, where he met Paoletti, who said: "I always wanted to do something of my own, even back in Sicily, but never with another person."
As is the case all too often in life, everything turned out differently. Over a beer after work, the two young cooks realised they had the same ideas about high-quality cooking and decided to join forces. "I started a social revolution with Gabri," says Wolff, laughingly. The two wanted to campaign not only for good quality food and fight for fair wages but also for reasonable working hours. "This didn't find favour with everyone. And so we decided to do our own thing, as it were."
Back in Italy, Paoletti already had the idea of offering gourmet sandwiches using high-quality ingredients, packaged simply, and available to everyone. They took a few detours through the event and trade fair sector before finally landing in Adlershof. "We went on tour with our truck, always on the road and always somewhere else." The demand grew and people kept coming back. People that tried us once didn't want to eat anywhere else.
Their mission was to find regulars and so they began looking for a suitable location. Paoletti and Wolff frequently drove through the city together and finally ended up at the Technology Park Adlershof. Their food truck has now been based here for six years. "Our lunch offer includes over 20 sandwiches as well as burgers. On top, we have a weekly menu with two or three meals," they say about their menu, adding: "Quality is important to us above all else. We make everything fresh on the spot."
On weekdays, the FOOD truck is open from 11 am until 2 pm. You have to be quick because the two are very much opposed to wasting food. When the porchetta is gone, it's gone.
Helen Arnold for Adlershof Journal